GIC Interest Rates Have Little To Do With Annuity Rates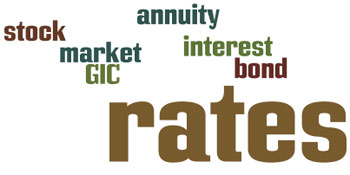 Drawing a relationship between GIC and Annuity Rates is just not possible.
Last week a client informed us that he was self annuitizing by withdrawing payments each year similar to which he would receive in a life annuity which is akin to self insuring your health when you travel.
I pointed out that this one-man annuity has no life guarantee but he insists that GIC rates are going up soon and that annuity rates will too and he will benefit.
Again,I spoke to him about long term bonds of 10, 20 and 30 years on which annuity payments are, at least partially dependent and which have little to do with GIC rates which have been going down for years anyway. Attempting to draw a relationship between these 2 independent forces is just not possible.
And finally I said that if the stock market falls, that money will flow into the bond market, lowering the returns and the annuity rates in turn.
Is there anything else that is relevant here?