Great-West Life: Annuity Calculator
Calculate Your Annuity Payment
Calculate your monthly annuity payment using Great-West Life's Annuity Calculator below.
Once you submit your information, we'll calculate your monthly annuity income and send you the Great-West Life Annuity Illustration by email.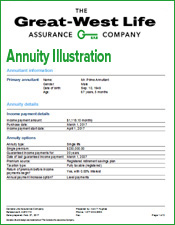 Great-West Life Annuity Calculator
About Great-West Life Insurance
Great-West Life, together with its subsidiaries, London Life and Canada Life, is a leading Canadian insurer, with interests in life insurance and health insurance, investment, retirement savings and reinsurance business, primarily in Canada and Europe.
(Reference: www.gwl.ca)
Annuity Calculators