Manulife: Annuity

Annuities from Manulife Financial
A Manulife Financial annuity provides regular, fixed income payments for the rest of your life. If you are looking for a guaranteed monthly income stream that will continue until your death, then a life annuity is the perfect retirement option.
Talk to a Manulife Agent/Broker
The best way to learn more about annuities from Manulife Financial is to contact a Manulife insurance agent or broker who speciallizes in annuity sales. An annuity broker deals with more than one company and can help you compare monthly incomes from all the different life insurance companies that sell annuities in Canada.
How to buy an annuity from Manulife Financial
Start by completing a Manulife annuity quote.

Completing a Manulife annuity quote below is the first step in calculating your monthly income based on your personal needs.
Click here to get a Manulife Annuity Quote

Figure 1. Manulife Annuity Calculator

Receive your Manulife Annuity Illustration by email.

Once you submit your information, we'll calculate your annuity payout and send you the Manulife Annuity Illustration the same day. Here is an example of a Manulife Annuity Illustration.

Figure 2. Manulife Annuity Illustration

Complete the Manulife Annuity Application.

After reviewing the annuity illustration, the annuity broker will take down your information and complete the annuity application for you. Here is an example of a Manulife Annuity Application.


Figure 3. Manulife Annuity Application

Complete the transfer form(s).

The annuity broker will complete the transfer forms that are necessary. Registered funds like your RRSP, RRIF or RPP are transfered from one institution to another using a transfer form. If the funds are coming from a non-registered source the annuity broker will ask you for a cheque that is payable to Manulife Financial.

Figure 4. Transfer Form

The following items are sent to Manulife Financial:
Manulife Annuity Application
Manulife Annuity Illustration
Transfer Form (for registered funds) or
Cheque payable to Manulife Financial (for non-registered funds)
Void cheque for the payment of the monthly income
Copy of a government issued photo ID
Your Manulife Annuity Policy is issued and mailed.
Your annuity policy will be issued when the registered funds are transferred. Or when the non-registered funds have been cashed.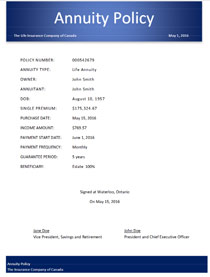 To Begin, Request A Manulife Annuity Quote
About Manulife
Manulife provides some of the very best financial protection and wealth accumulation products backed by the financial strength and security of a global leader.
When you insure your family against the unexpected or invest your money for the future, you need a financial services company that is financially secure and able to keep its promises, possibly many years from now. Our high quality investment portfolio, diverse business platform and prudent risk management practices are a few of the reasons why you make the right choice when choosing Manulife Financial.
(Reference: www.manulife.ca)
Annuity Companies