Empire Life Annuity Calculator
If you are looking to purchase a life annuity in Canada, consider investing with Empire Life Insurance. Empire Life is one of the largest financial institutions in Canada and has an excellent variety in life annuity products. To help you with your research on Empire Life's products, we offer a free Empire Life annuity calculator. This tool helps you easily find price quotes for Empire Life's annuities.
The following is a screenshot of the annuity calculator we use to obtain updated annuity quotes from Empire Life. Each quote gets individually calculated.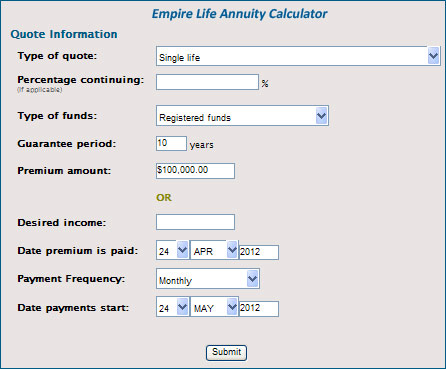 Calculating a Empire Life Annuity Rate
Our company has access to Empire Life's annuity rate databases. To get a quote from Empire Life, you need to schedule a meeting, give them your financial information, and wait for Empire Life to build the quote. With our calculator, you only need to enter in a few pieces of information and you will receive your quotes within a few days by phone or by email .
To use the Empire Life Annuity Calculator, you need to enter in the following information into the calculator: your age, your gender, how much you plan to invest, where the money will come from, and your contact information. You also need to list whether you want a guarantee period or a second owner on the contract. Once you enter this information, the calculator will get to work and build your quotes. The Empire Life Annuity Calculator is an easy way to see how much Empire Life pays for an annuity investment and lets you know if Empire Life is the company for you.
To obtain a Empire Life annuity calculation please complete the following annuity form.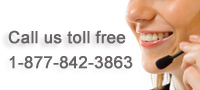 For a joint life annuity (if required).

Details on an Empire Life Annuity
A life annuity from Empire Life is an investment contract with a life insurance or investment company. To buy a contract, you need to make a lump-sum deposit with your annuity company. In exchange, the annuity company agrees to give you a monthly payment for the rest of your life. This is a great way to turn your retirement income into guaranteed, lifetime income.
If you are married, you can also use your life annuity to create guaranteed income for your spouse. This is called a joint-life annuity. As long as you or your spouse is alive, your Empire Life joint life annuity will continue to make payments. In exchange for this extra guarantee, a joint life annuity has a smaller monthly payment than a single life annuity.
A life annuity stops payments immediately after its owners die. If you die young, you may receive less in payments than you invested in the contract. If you don't like the thought of this, you can design your life annuity with a guarantee period. If you die during the guarantee period, payments continue to your heirs for the length of the guarantee. In exchange for taking this extra feature, your monthly payments are different.
Annuity Payment Size
Your monthly life annuity payments depend on a few factors. It depends on the size of your investment. A larger investment creates a higher monthly payout. It also depends on your life expectancy. If you are younger and healthier, your payment is lower because the company needs to stretch your annuity contract for a longer period. Lastly, your payment size depends on which company you invest with. Each annuity company in Canada uses a different formula to determine its payouts. Taking the time to research your options with our free annuity calculators lets you find the best rate possible.