Infographic: Canadians In The Dark About Annuities

July 8, 2016
by
Ivon T Hughes
The infographic below are some of the findings of an Ipsos poll conducted on behalf of RBC Insurance. For this survey, a sample of 1,000 Canadians aged 55 to 75 from Ipsos' Canadian online panel was interviewed online.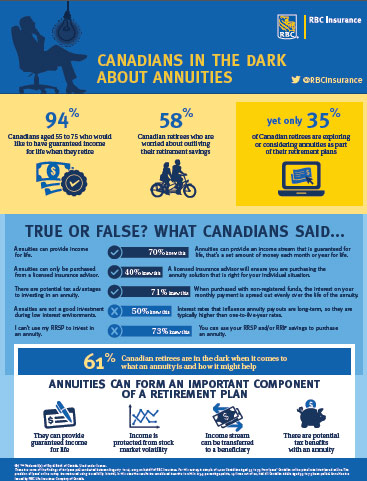 Survey Results
94%
Canadians aged 55 to 75 would like to have guaranteed income for life when they retire
58%
Canadian retirees who are worried about outliving their retirement savings
35%
Canadian retirees are exploring or considering annuities as part of their retirement plans
61%
Canadian retirees are in the dark when it comes to what an annuity is and how it might help
About the Author:
Ivon T Hughes is a leading expert in life annuities in Canada. His website LifeAnnuities.com is a recognized authority on annuities. He's also an established insurance and investment broker, licensed across Canada through The Hughes Trustco Group since 1972. Recently, he's been redefining how annuities are sold in Canada.