BMO Insurance: Annuity Calculator
The following is a screenshot of BMO Insurance's annuity calculator used to obtain up-to-date annuity illustrations. Each annuity calculation is tailored to your unique needs and financial goals.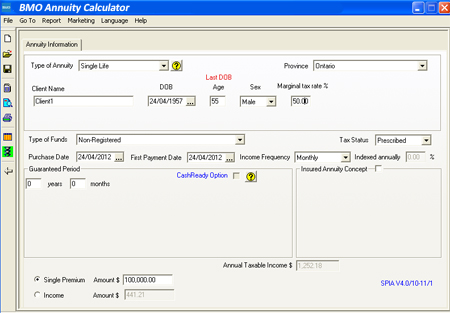 Calculate Your Annuity Payment
Calculate your monthly annuity payment using BMO Insurance's Annuity Calculator below.
Once you submit your information, we'll calculate your monthly annuity income and send you the BMO Annuity Illustration by email.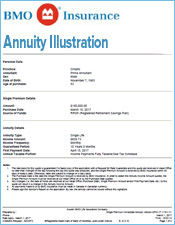 BMO Annuity Calculator
About BMO Insurance
BMO Financial Group is a highly diversified North American financial services organization that provides a broad range of retail banking, wealth management, and investment banking products and solutions to more than seven million clients and customers across Canada. BMO offers a range of innovative and easy-to-understand insurance solutions that includes: life and disability insurance on mortgages, loans and lines of credit; MasterCard Outstanding Balance insurance; DirectTerm life insurance; Personal Accident Protection, critical illness, and travel insurance. BMO Nesbitt Burns and its predecessor companies have been helping investors meet their financial goals since 1912.
(Reference: www.bmolife.com)
Annuities from BMO Insurance
If you are looking to purchase a life annuity in Canada, consider investing with the Bank of Montreal Insurance. BMO Insurance is one of the largest financial institutions in Canada and has an excellent variety in life annuity products.
Annuity Calculators