Annuity Tutorial
Chapter 2. Why an annuity?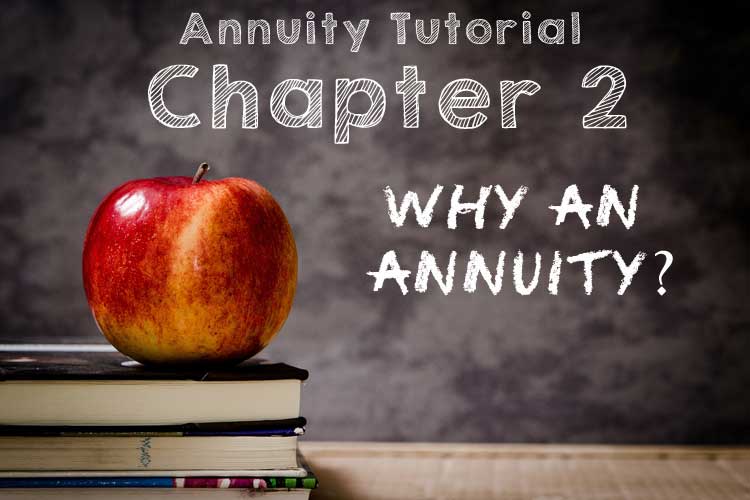 Chapter 2: Table of Contents
Why an Annuity?
Steady, reliable, guaranteed income
Reduces worry of:

Outliving your retirement capital
Delaying your retirement
Downsizing your lifestyle

Provides a higher income than other alternatives of similar security
Annuity popularity
Our aging population, baby boomers are headinginto their retirement years.
People are retiring earlier and living longer. This creates growing demand for products such as annuities to ensure retirement income lasts a lifetime.
More people are financing retirement because government sources like old age security (OAS), and Canada pension plan (CPP) and Quebec pension plan (QPP) may not provide adequate income.
Annuities often complete a balanced, effective retirement income plan.
Annuity products are now more innovative, with numerous options for convenient customization.
People are more risk averse and wary of market volatility, shifting some of their investments to more secure sources of income.
Annuity Options
Choose from the following options and featuresto enhance your annuity to suit your needs.
With a life annuity you, nor your spouse if included, can outlive the income.

You may choose to purchase a guarantee period for any number of years up to your age 90 for registered funds and longer for non-registered funds.

Payments can be guaranteed for a specific term. When included in a life or joint life annuity, upon either death, this may provide guaranteed payments to your beneficiary, which will continue until the term expires. In the event of death and if the guarantee period has not expired, your payments can be made to a named beneficiary or taken as a lump sum in case of a non registered annuity. For a registered annuity, a lump sum will be paid after taxation.

To help offset inflation, you may choose to have income payments increase at a fixed annual rate, to a maximum of four per cent for registered annuities and six per cent for non-registered annuities.

If you don't want to start receiving payments immediately, you can defer them to a later date. With the guaranteed income option on a deferred annuity, you may be able to add a return of premium option; this allows for return of premium if the annuitant dies before payments begin.

Impaired annuities are for people with health problems severe enough to affect their life expectancy. Income payments are higher than the standard life annuity and won't decrease, even if medical advances improve the annuitant's life expectancy.