About Us
The Hughes Trustco Group Ltd - LifeAnnuities.com
LifeAnnuities.com is a Hughes Trustco Group Ltd website. The Hughes Trustco Group Ltd are Canadian insurance and investment brokers in business since 1972 and online since 1998. We are independent brokers with a full range of financial products including life insurance, annuities and investment funds.
Ivon T. Hughes
Ivon T. Hughes is a licensed Canadian annuity broker having been in the annuity and life insurance business over 40 years. A qualified annuities broker can help design an annuity to fit your needs and can instantly provide quotes from all the leading annuity providers.
View our client testimonials.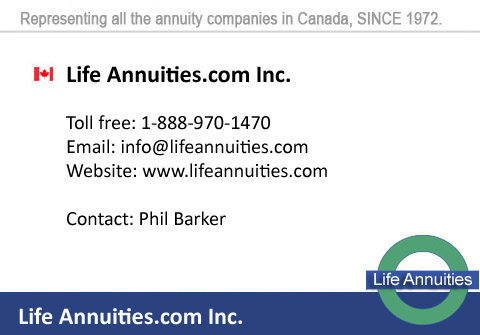 Life Insurance Companies We Represent
The life insurance companies that sell annuities in Canada and that we represent are:

Our Total Customer Satisfaction Guarantee
LifeAnnuities.com is committed to ensuring that the sales process is of the highest integrity and focused on your needs. To meet this challenge, we have put in place two important programs to safeguard your interests and to ensure that you are completely satisfied with the product you purchase.
We provide you with choice
We offer you a choice of registered and non-registered annuities and a wide range of options:
Immediate or deferred annuities
Indexed annuities
Term certain or life annuities (either single or joint)
Life annuities, including temporary life, with or without a guaranteed period
Joint ownership available on non-registered policies
Enhanced/impaired annuities
Excellent returns
We provide annuity quotes from all the insurance companies that sell annuities; so there is no need to have to shop anywhere else. You'll get the best monthly income available.
Non-residents
Next If you are not a resident of Canada, you are welcome to visit our website; however, this website and the products and services described herein were developed and are intended exclusively for Canadian residents.
Service Fees
There are no fees related to our services.
Transfer Fees, Courier Fees and Redemption Fees
1. We will reimburse you for reasonable transfer fees charged by your institution up to $250
2. We also reimburse your courier fees.
3. While we cannot reimburse your redemption fees charged by mutual fund companies, we can intervene to mitigate the amount paid.
Code of Ethics
LifeAnnuities.com is confident that our sales intermediaries are already operating at a high standard of ethics. To ensure that high standards are maintained, we have defined the standards we expect our intermediaries to adhere to:
Compliance - compliance with all federal and provincial laws and regulations and internal standards governing the sales process.
Status and introduction - providing clients with full and accurate disclosure of his/her status, qualifications, relationship with Standard Life and the services provided.
Competence - providing services, advice or information only where they are licensed and competent to do so.
Needs selling and continuous service - identifying the needs of the client before offering advice and providing continuous attention to these needs.
Disclosure - educating clients about the products and services offered by providing full and accurate disclosure of all facts required to allow the client to make an informed decision.
Priority of client's interest - giving priority at all times to the interests of the client when providing advice.
Confidentiality - holding the personal and business information of clients in the strictest confidence.
Documentation - providing clients with written copies of any advice given and retaining sufficient information in a client file to demonstrate the appropriateness of a sale.

Advertising Annuities Since 1986