Industrial Alliance: Annuity Calculator
The following is a screenshot of Industrial Alliance's annuity calculator used to obtain up-to-date annuity illustrations. Each annuity calculation is tailored to your unique needs and financial goals.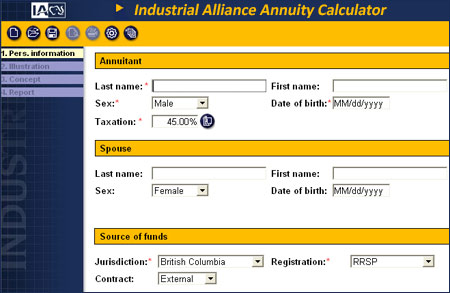 Calculate Your Annuity Payment
Calculate your monthly annuity payment using Industrial Alliance's Annuity Calculator below.
Once you submit your information, we'll calculate your monthly annuity income and send you the Industrial Alliance Annuity Illustration by email.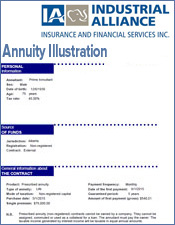 Industrial Alliance Life's Annuity Calculator
About Industrial Alliance Finanacial Group
Founded in 1892, Industrial Alliance Insurance and Financial Services Inc. is a life and health insurance company that offers a wide range of life and health insurance products, savings and retirement plans, RRSPs, mutual and segregated funds, securities, auto and home insurance, mortgage loans and other financial products and services.
The fourth largest life and health insurance company in Canada, Industrial Alliance is at the head of a large financial group, which has operations across Canada as well as in the United States.
(Reference: www.inalco.com)
Annuities from Industrial Alliance
If you are looking to purchase a life annuity in Canada, consider investing with Industrial Alliance. Industrial Alliance is one of the largest financial institutions in Canada and has an excellent variety in life annuity products.
Annuity Calculators