Nothing is Certain but Death, Taxes and Annuities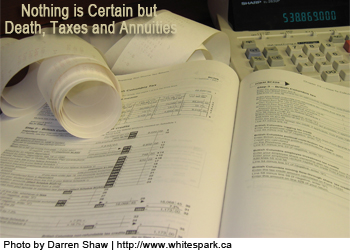 According to Benjamin Franklin
'In this world nothing can be said to be certain, except death and taxes.' But Hamish, a retired journalist with a sense of humour, says he can think of at least one more thing that's certain – and that he's glad about. Every month, as well as his pension, he receives income from a life annuity he bought with a lump sum paid to him when he retired. When he was working, Hamish moved around a lot covering stories in different parts of the country. He still has the travel bug and his annuity from his income is just the ticket to fund his different trips, he says.
Covering the Different Bases
Hamish has split his financial assets between his annuity for regular income, and a guaranteed investment certificate (GIC), besides keeping some cash back for any unexpected expenses. For his annuity, he chose a lifetime option with a guaranteed period of ten years. A keen supporter of a nature preservation association, he's arranged for the guaranteed annuity payments to be paid to the association if he dies before – 'that way, I'll be sure to contribute either by fundraising while I'm around, or by gifting if I go!'
An Annuity to Supplement Retirement Income
This financial planning suits Hamish down to the ground:
The annuity will pay him a fixed amount every month for the rest of his life
He chose not to make this annuity index-linked. For one thing he won't be travelling around forever so he'll need less real income later, and by foregoing the index-linking now, his monthly annuity payments are bigger.
When the term of his other investment, the GIC, is up, he can decide whether he wants to re-invest, spend the money, or buy a second annuity to add extra income to that of the first.
The rate of taxation on his annuity is more favourable than on his GIC
Favourable Tax Considerations
'Ben Franklin was right about taxes, but he just didn't know about the advantages of annuities', Hamish says with a grin. In fact, because the annuity payments he receives are a mix of interest and capital re-payment, he is only taxed on a portion of them. If he had chosen index-linked payments, he would also have had the same tax advantages.
Make Up Your Own Mind, but Make Sure You Have the Information
Hamish regularly visits family too as he travels around. 'A lot of my family have asked me how I've arranged my finances in order to be able to move around so freely. I tell them about my annuity strategy and let them see if it makes sense for them. They should pick the solution that suits them best, annuity or no annuity, but they should also know about the advantages.'
If Hamish's situation sounds familiar and you'd like to know more about your own retirement options with an annuity, then call us today at 1.877.842.3863 for a friendly, open discussion free of charge.