Five Things You May Not Know About Annuities
Seven out of every ten Canadians don't know about annuities.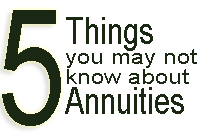 What is an annuity?
Do you know what an annuity is? Seven out of every ten Canadians don't know about annuities and what they are. Though they have heard of the term, they have no idea of how an annuity it works or what they're used for. A life annuity is an investment that a person makes to guarantee the enjoyment of the income earned from it. In this sense, annuities can be considered a post retirement investment option that pays a monthly income to the holder until they pass away.
So, if you don't have a clear idea of what annuities are, you are not the only one.
Here are five things you may not know about annuities.
You Cannot Outlive Your Money

One of the major concerns people have regarding common investment options is that their savings might eventually run out. This is why they often refrain from keeping their money in cash and look for lucrative investments that keep paying out over a long period of time. In the case of life annuities, you will receive a monthly income for life. Regardless of whether you live for five years or fifty years after your retirement, the annuity will keep paying you a steady income every month so that you can live with ease. Therefore, you cannot outlive your money if you purchase an annuity.

They are Free from Market Risk

Annuities, are free from market risk. Unlike stocks and other investment assets, the rate of interest does not fluctuate due to changes in the market. This means your money is protected in case the economy encounters another dip like the past recession.

Payments Can Begin Right Away

It only takes a month for you to receive the first cheque from your annuity once the policy comes into effect. This means that you can get the money a month after you retire. The monthly income stream you are used to doesn't stop. Monthly payments on a life annuity are the most favored period.

Repayment is Possible in Case of Premature Death

There is always the risk that the policyholder dies before having recovered the money they had invested in the annuity. In this case, the difference depending on the annuity type is paid to the spouse or children of the deceased. Certain policies give you the right to have the payments continued after your death for a specific number of years in order to benefit your loved ones. So, in any case, your money is not going to go down the drain as your family will benefit from it if you are unable to.

Withdrawal Options Are Available

You continue receiving a monthly income on your annuity for the duration of your lifetime after retirement.

These are five things you may not have know about an annuities. Remember safety first is the first rule for a happy retirement.