Annuities in Alberta, Canada

Annuity Providers in Alberta, Canada
The following is a list of annuity providers in Alberta.
Annuity Rates
Alberta Ranks 3rd For Searches On Annuities
List of Canadian provinces and territories with the most searches on annuities are:
Ontario
British Columbia
Alberta
*Quebec
Manitoba
Saskatchewan
Nova Scotia
New Brunswick
Newfoundland and Labrador
Prince Edward Island
Northwest Territories
Yukon Territory
Nunavut
*Source: 2017 Web traffic from LifeAnnuities.com. *Does not include searches for the french term rente.
Top 10 Cities in Alberta With Searches On Annuities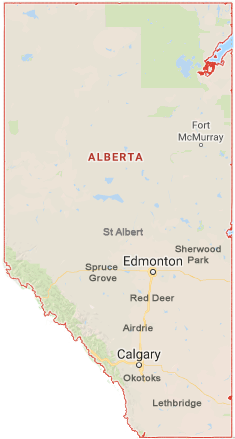 Calgary tops the list with the most searches for annuities
*Source: From Feb 2017 to Feb 2020 Web traffic from LifeAnnuities.com.
Who Sells Annuities in Alberta?
Life insurance companies do not sell annuities direct to the consumer. A life insurance agent or a independent life insurance broker are used to buy annuities.
Ideally it's in the annuitant's best interest to use an independent life insurance agent who specializes in annuities. An independent annuity broker will provide quotes from all the life insurance companies which you can then compare and choose the company with the best income.
The Alberta Insurance Council
The Life Insurance Council of Alberta are the regulatory bodies responsible for licensing and discipline of insurance agents, brokers and adjusters in the province of Alberta. The Council are formed under the Insurance Act and they derive their authority under a delegation from the Minister of Finance & Enterprise for the province.
The Alberta Insurance Council can provide you with the following information:
Whether an individual or company is authorized to act as insurance agent, broker, or adjuster in Alberta;
The type of insurance a certificate holder or company is allowed to conduct;
Whether or not they have been subject to a disciplinary action.
Request An Annuity Quote
If your province of residence is Alberta, The Hughes Trustco Group (LifeAnnuities.com) will provide personal annuity quotes from all the life insurance companies.