Guaranteed Lifetime Income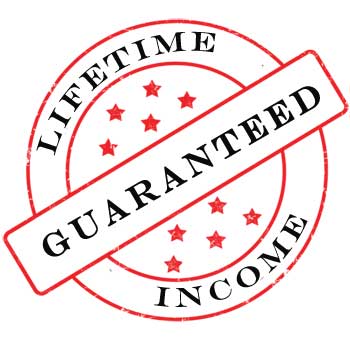 The 2018 Guaranteed Lifetime Income Study
In a study, released on May 15, 2018, Guaranteed Lifetime Income was viewed as a valuable supplement to government sponsored retirement plans.

The top retirement concerns in this survey of 1003 retirees and pre-retirees aged 55-75, was conducted on behalf of Sun Life and Great-West life.
Their top concerns were:
1. low interest rates
2. losing money or low returns on the stock market
3. not being able to afford long term care
4. outliving savings

Can they afford to live to age 85 is the question in most people's minds. If you don't have a defined benefit pension plan, inflation indexed like public servants, then you definitely need a guaranteed lifetime income. With aging affecting your ability to keep moving your money around, rising inflation and longevity makes outliving your money a real concern.

The study also found that 76% of women think that it is important that essential living expenses be covered by a guaranteed lifetime income source.

The survey confirms what our clients continue to tell us. They need a private income like an annuity, registered or non-registered, to guarantee they will have income for life. They are tired of trying to find the best fund or best interest rate and just want a cheque, guaranteed to be in their account each month.