RRSP Contribution Limits
2017 Maximum Annual RRSP Contribution Limits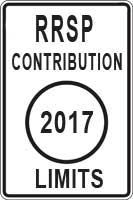 What are the RRSP Contribution Limits for 2017?
RRSP deadline for tax contribution is March 1st.
Annual RRSP contribution limit applies to the total contributions to all of an individual's RRSP, Spousal RRSP and Group RRSP.
The allowable RRSP contribution limits for the current year is:
The lower of 18% of your earned income from the previous year.
The maximum annual contribution limit for the taxation year.
The remaining limit after any company sponsored pension plan contributions.
| Year | RRSP Contribution Limit |
| --- | --- |
| 2002 | $13,500 |
| 2003 | $14,500 |
| 2004 | $15,500 |
| 2005 | $16,500 |
| 2006 | $18,000 |
| 2007 | $19,000 |
| 2008 | $20,000 |
| 2009 | $21,000 |
| 2010 | $22,000 |
| 2011 | $22,450 |
| 2012 | $22,970 |
| 2013 | $23,820 |
| 2014 | $24,270 |
| 2015 | $24,930 |
| 2016 | $25,370 |
| 2017 | $26,010 |
| 2018 | $26,230 |
| 2019 | Indexed to average wage growth |