2017 LIF Minimum & Maximum Withdrawal Rates
Withdrawal Limits for 2017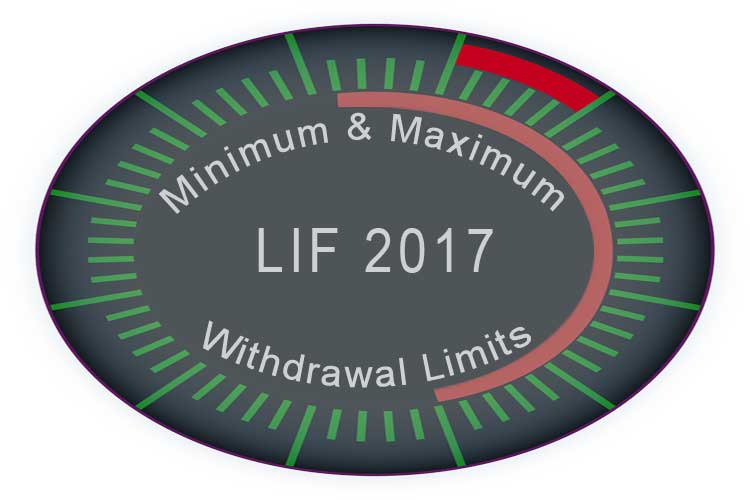 What is a life income fund (LIF)?
A Life Income Fund (LIF) or locked-in retirement income fund (LIRF) are similar to a RRIF, but for funds that originally came from a pension plan.
The funds are held in either a locked-in retirement account (LIRA) or a locked-in RRSP and then converted to a LIF.
While different provinces have different rules, both LIFs and LRIFs have both minimum and maximum annual withdrawal amounts.
Table: LIF Minimum and Maximum Withdrawal Rates
| | | | | |
| --- | --- | --- | --- | --- |
| 50 | 2.50% | 6.27% | 6.10% | 4.34% |
| 51 | 2.56% | 6.31% | 6.10% | 4.38% |
| 52 | 2.63% | 6.35% | 6.10% | 4.41% |
| 53 | 2.70% | 6.40% | 6.10% | 4.45% |
| 54 | 2.78% | 6.45% | 6.10% | 4.50% |
| 55 | 2.86% | 6.51% | 6.40% | 4.54% |
| 56 | 2.94% | 6.57% | 6.50% | 4.59% |
| 57 | 3.03% | 6.63% | 6.50% | 4.65% |
| 58 | 3.13% | 6.70% | 6.60% | 4.71% |
| 59 | 3.23% | 6.77% | 6.70% | 4.77% |
| 60 | 3.33% | 6.85% | 6.70% | 4.85% |
| 61 | 3.45% | 6.94% | 6.80% | 4.92% |
| 62 | 3.57% | 7.04% | 6.90% | 5.01% |
| 63 | 3.70% | 7.14% | 7.00% | 5.10% |
| 64 | 3.85% | 7.26% | 7.10% | 5.20% |
| 65 | 4.00% | 7.38% | 7.20% | 5.32% |
| 66 | 4.17% | 7.52% | 7.30% | 5.45% |
| 67 | 4.35% | 7.67% | 7.40% | 5.59% |
| 68 | 4.55% | 7.83% | 7.60% | 5.74% |
| 69 | 4.76% | 8.02% | 7.70% | 5.92% |
| 70 | 5.00% | 8.22% | 7.90% | 6.12% |
| 71 | 5.28% | 8.45% | 8.10% | 6.35% |
| 72 | 5.40% | 8.71% | 8.30% | 6.60% |
| 73 | 5.53% | 9.00% | 8.50% | 6.90% |
| 74 | 5.67% | 9.34% | 8.80% | 7.25% |
| 75 | 5.82% | 9.71% | 9.10% | 7.66% |
| 76 | 5.98% | 10.15% | 9.40% | 8.13% |
| 77 | 6.17% | 10.66% | 9.80% | 8.67% |
| 78 | 6.36% | 11.25% | 10.30% | 9.30% |
| 79 | 6.58% | 11.96% | 10.80% | 10.05% |
| 80 | 6.82% | 12.82% | 11.50% | 10.94% |
| 81 | 7.08% | 13.87% | 12.10% | 12.04% |
| 82 | 7.38% | 15.19% | 12.90% | 13.41% |
| 83 | 7.71% | 16.90% | 13.80% | 15.17% |
| 84 | 8.08% | 19.19% | 14.80% | 17.53% |
| 85 | 8.51% | 22.40% | 16.00% | 20.82% |
| 86 | 8.99% | 27.23% | 17.30% | 25.77% |
| 87 | 9.55% | 35.29% | 18.90% | 34.02% |
| 88 | 10.21% | 51.46% | 20.00% | 50.51% |
| 89 | 10.99% | 100.00% | 20.00% | 100% |
| 90 | 11.92% | 100.00% | 20.00% | 100% |
| 91 | 13.06% | 100.00% | 20.00% | 100% |
| 92 | 14.49% | 100.00% | 20.00% | 100% |
| 93 | 16.34% | 100.00% | 20.00% | 100% |
| 94 | 18.79% | 100.00% | 20.00% | 100% |
| 95 | 20.00% | 100.00% | 20.00% | 100% |