How To Guarantee a Secure Retirement Income For Life?
Guarantee lifetime income with a life annuity.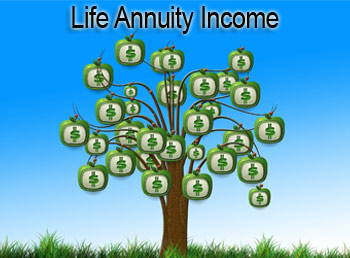 Setting Up a Registered Retired Income Fund (RRIF)
When you set up a registered retirement income fund (RRIF), you have an important decision to make. Within the year following you must start receiving a minimum level of income.
You can withdraw more than the minimum if you wish. But you cannot withdraw less. As a result, if you live longer than the government expects you to live, there's a chance that you will outlive your RRIF income.
Naturally, outliving your retirement assets is among the scariest scenarios any retiree can face. Unless you choose to guarantee some or all of your retirement income, you are making a gamble few Canadians can afford to lose.
What's the problem?
The problem with RRIFs is that because you have a minimum withdrawal amount that you must make every year, you will have to keep taking money out even when markets are terrible. When you keep taking money out of an account in a down market, you will run out of money much sooner than you planned.
Yes, a RRIF allows you to control your own investments. You can invest as aggressively or conservatively as you like. But even the best investors guess wrong, occasionally, or run into a rough patch before their long-term investments pay off. But when you have to take money out of your account, even in a bear market, and pay taxes on that money, you wind up eating a lot of seed corn.
That means less money will be available to compound in future years. But you'll still have to take the same income out of your account. Your portfolio may never recover.
For the vast majority of Canadians, taking some or all of a RRIF and converting to an annuity that will generate income for life, guaranteed, is a much better option.
Here's why:
There is no risk of outliving your money.
You bear no stock market risk. Your future stream of income is guaranteed, regardless of what happens to the stock market, bond market, real estate market or anything else.
You bear no interest rate risk. Your income is guaranteed, regardless of what happens to interest rates in the future.
You can control inflation risk by purchasing an inflation or cost-of-living rider.
On average, annuity income beats RRIF income by 20 percent, according to research by Fred Vettese of the Financial Post. This is because the assets of those who pass on before they reach life expectancy accrue to the benefit of those who live longer. Those who live longer receive higher incomes than are – on a guaranteed basis. This alone is a powerful reason to take the amount of your RRIF dedicated to fixed income investments and allocate it to annuities.
Annuities can provide guaranteed lifetime income not just for you, but for a surviving spouse as well. No stock, bond or mutual fund broker or salesperson can make this promise. Only the annuity is designed to provide a lifetime income for either one or two people, guaranteed.
You will be able to enjoy your income more. Because there is no risk that your income from a life annuity will run out, you and your spouse are free to spend your full incomes to take care of your needs and enjoy life – secure in the knowledge that you will receive another payment next month, no matter what happens to the markets. If you rely on stocks, bonds and mutual funds for your income, you will have no such guarantee.
If you do choose to keep some money within an RRIF, you will have more freedom to invest for growth. You will not be relying on your stocks and mutual funds to provide for current income. You will be able to invest with a longer time horizon.
While many of our clients enjoy the challenge of stock market and mutual fund investing, and have done well with it, you should never risk what you absolutely need in order to gain what you don't have and don't need. This is why we recommend considering using life annuities to secure an income at least sufficient to provide for your basic retirement needs.
What Should I Do Now?
Calculate your annuity income using our free online annuity calculator. This will give you an estimate of the guaranteed lifetime income you can qualify for, given your age and sex. One of our experienced agents will then contact you to go over your options and help you customize your plan.
For example, you can choose inflation protection, or choose to customize your annuity to provide a lifetime of guaranteed income to cover your spouse's life as well as your own. The choice is yours.
Any questions? Feel free to call us toll-free at 877-842-3863 from anywhere in Canada.