Retirement Planning
3 Great Uses Of Life Insurance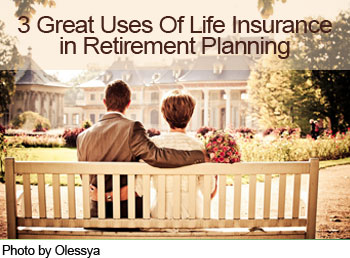 Life insurance part of a sound retirement plan
There is no doubt that the you have heard as many negatives as positives when it comes to using life insurance as part of a sound retirement plan. Many arguments are founded on fact, but there are just as many founded on opinion. We do know that life insurance will pay a death benefit much larger than the paid-in premium. Life insurance does not lose value. In most cases, life insurance is purchased whether there is a retirement plan in place or not. Let's get a little more specific concerning life insurance in conjunction with retirement planning.
The 3 great uses of life insurance are:
Funding A Life Annuity

Although many suggest that buying term insurance is like money down the drain, such is just simply not the case. If you and your spouse have term life insurance policies the death benefit can be used to help fund the survivor's retirement. In this example, the death benefit from the deceased spouse's policy is paid in a lump sum to the surviving spouse. The surviving spouse then takes the lump sum payout and purchases a life annuity so that the death benefit is transformed to a retirement income for life.

Income Replacement

Upon reaching retirement age, government benefits are typically paid to the husband and spouse. When one spouse dies, the surviving spouse is entitled to a widow or widowers pension. With a properly designed life insurance plan, any loss of income is replaced by the annuity payment that is received by the surviving spouse. When it comes to younger couples the death benefit should be sufficient to replace the loss of income that was needed as household income.

Legacy Guarantee

Without question, a life annuity can be used to provide the funds for gifts to children, grandchildren, or a preferred charity. Understanding that you need not continually stress over spending your legacy goes a long way during retirement years. Any cash value life insurance is also a means for emergency cash during the lifetime of the policyholder and spouse. The funds would be available for Long-Term care expenses for either spouse, which makes the life insurance policy a resource for multiple needs over the lifetime of the insureds.
Certainly, having life insurance alone is not considered a retirement plan, but in most cases neither are traditional investments. Only by combining life insurance, government benefits, and traditional investments does the individual or couple reach their goal of living comfortably during retirement years without worrying about outliving their income.