RRIF vs. Annuity:
What should you do?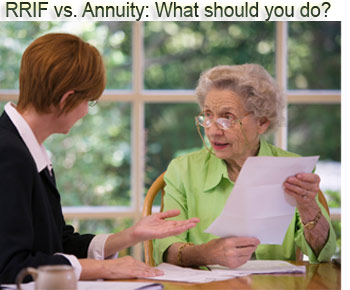 Which of the two products is best for you?
This is one of the questions that many seniors in Canada have to ask themselves. Both RRIF or rather the Registered Retirement Income Fund and life annuity are plans designed to ensure that a retiree is able to support him or herself financially. In order to help you decide which of the two plans is best for you, it is important to look at both of them individually to see if both plans have similar benefits, and if not, which plan outweighs the other.
Life Annuity
A life annuity is a financial agreement that is similar to an insurance product whereby a buyer, also known as an annuitant makes a single lump sum payment to a life insurance company. The company then makes a payment to the annuitant each month until the annuitant dies.
When an annuitant dies, the company stops sending the payment and taxes are paid on any remaining guarantee. Any oustanding amount in a non-registered annuity can be transferred to other annuitants and if none are listed, then to the beneficiary.
The advantages of a life annuity include the following:
Lifetime guarantee - With a life annuity, you get to enjoy an income when you are retired. This means that you have secure income for your needs to live a comfortable life. Note that no other financial options can offer lifetime income.
Protection against non-payment - Since annuities are insurance products, the assets held by the provider ensures that there is little risk of non-payment.
Insurance - All annuity companies in Canada protect annuitants up to an income of $2000 a month if the insurance company is unable to pay. Therefore, the safety of your contribution and subsequent payment is assured whether the economic conditions are favorable or otherwise.
Annuities also come with better returns even when the rates of interest are falling. In fact, life annuities issued by life insurance companies are more stable which means that they are a great form of safety net.
The disadvantages of a life annuity include:
When you pay a premium and begin getting payments from the insurance company, there is no way you can withdraw more money than the amount you are getting.
RRIF - Registered Retirement Income Fund
From Wikipedia "A Registered Retirement Income Fund (RRIF) is a tax-deferred retirement plan under Canadian tax law. Individuals use an RRIF to generate income from the savings accumulated under their Registered Retirement Savings Plan. As with an RRSP, a RRIF account is registered with the Canada Revenue Agency."
Single Vendor
This is a form of managed Registered Retirement Income Fund. In essence, it is an ideal plan for the investors who are not willing to manage their portfolio all the time. The plan works by buying investments and the financial institution does all the management work for you.
Self Directed RRIF
This kind of plan requires the buyer to do all the management. Additionally, it allows him or her to have a large collection of investments which he or she can decide to contract different financial institutions to hold. Therefore, with all these elements, it means that it could be a complex plan and may not be an ideal choice for someone who does not have the ability to run because it requires professional skills and constant monitoring by the buyer.
Benefits of RRIF
The benefits associated with Registered Retirement Income Fund include:
Control - RRIF gives the buyer more control of his or her investments. This gives him or her freedom and the satisfaction of running the investment.
This plan offers the investor better and bigger chances to grow his or her income because of the freedom and variety offered by the fund.
RRIF offers the buyer an opportunity to decide the amount of extra money he or she wants to receive which is not the case with life annuity. However this leads to a capital depletion.
The Downsides of a RRIF
• Although the buyer has the freedom and control over his or her investment, there are minimum withdrawals required monthly.
(See Minimum RRIF Withdrawal Table)

• When you invest in the RRIF, you are required to make decisions constantly on your investment and this could be a big challenge to many people.
Conclusion
It is very important to have a solid foundation for the future especially in this rapidly changing world. Making the right investment decisions is the only way to ensure you are stable financially when you retire. Whichever method that suits you, the above information will help you in making the right decision on where to put your money and be assured of the best returns.