Our Road To Retirement
The Need Of A Guaranteed Source of Income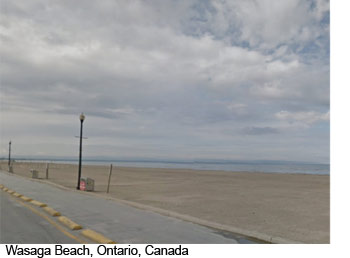 Retirement Story by Jonathan in Toronto, Ontario
I started thinking about retirement when I was in my early 20s, but it would be a full decade before I actually took any steps toward it. I had been working for an advertising firm in downtown Toronto and the economy had been kind to me. The money was flowing, I had a nice flat in Etobicoke and the future looked bright. I hadn't thought too much about owning a home at that point, I was just enjoying myself, making money and spending my evenings with friends and co-workers.
As the years passed, I started saving money each year. Not for any goal in particular, but simply because it was what I had always been taught to do. I had decided to save 10% of my monthly paycheck, thinking this would give me guaranteed retirement income for when I finally did retire. At that point, retirement was still an abstract concept to me.
When I turned 36, I married the love of my life, Lana. She was a broker for a real estate firm, and she was the most beautiful and vivacious woman I had ever met. Just two years after we married, we bought our first home, a three bedroom colonial just south of downtown Toronto, off Yonge street. We decided to take out a 15-year mortgage and make aggressive payments on it to pay it off before retirement. It was around that time that I started thinking about retirement in earnest. I made a trip to see the financial adviser at the local bank.
I was in for a shock. The adviser told me that if I had started saving $120 a month when I was 22 at an 8% interest rate, I would have had $540,574 by the time I retired at 65. At that point, I was already 14 years behind. If I started that day, saving the same $140 a month, I would only have $164,849 at retirement, a loss of $375,725. I set up my retirement account that day and start aggressively saving.
The retirement planner suggested an age-based portfolio that would start out aggressive, with the majority of our funds in stocks, then gradually get more conservative as we neared retirement. By the time we were ready to retire, the majority of our funds would be in bonds, GIC's, annuities and other "safer" investments. Since Lana was five years younger than I was, her plan was even more aggressive, with almost 100% in stocks.
Lana found out that she was pregnant not long after I had started that account. It was a welcome surprise. Our daughter Camille was born the following spring. We immediately started thinking about university costs. Even before Camilla could walk, we had started a savings plan for her, taking advantage of compound interest. We started saving $25 a month toward her education, with plans to increase that amount as she got older.
As our daughter grew, we experienced several more financial milestones in our lives. I quit my job at the advertising firm after 25 years of service. My wife and I started a small gift shop not far from our home, a venture we hoped would bring us guaranteed retirement income. We also bought a second home---a small cottage in Wasaga, Beach. During the high tourism season, we rented it out , generating more than $1,500 a month in additional income.
The day we drove Camilla to her new university, we were flying high. Although we were sad to see her go, we were proud that we had been able to pay for her entire four years. Our daughter would emerge from her studies completely debt free. Four years later we stood with pride on that same campus, watching her walk across the state and accept her diploma.
Then things took a turn for the worst. Lana had started complaining of headaches, feeling nauseous and exhausted. When the symptoms simply wouldn't go away, she and I made the decision to take her to a specialist. The prognosis was grim. Lana had a brain tumor, which if were left untreated, would progress to cancer.
The doctor suggested aggressive surgery to remove the tumor. Lana was in surgery within a week. When we went for her six-week follow up visit, we were elated with the news. The tumor was completely gone, and Lana would be able to live a full, healthy life.
The Decision To Buy Life Annuities
To guarantee that we would avoid problems with any future illness we decided to buy life annuities to replace the term certain annuities we had used before. On the grounds that we were not financial experts and needed guaranteed income, we turned Lana's RRSP into a life annuity guaranteed for 10 years and our lifetime.
Then we turned my RRSP and registered pension plan into life annuities, with payments starting one year later.
The illness changed our thinking about money and the need to have a guaranteed source of income for our lifetimes. A life annuity settled that problem for us.
When I finally retired, I was 65, and had been blessed with three lovely grandchildren. Our daughter and son-in-law had taken over the family business, and Lana and I planned to spend the time traveling. We had been spending, on average, $31,000 a year before retirement. With our savings, rental income and the proceeds from the gift shop, we were able to maintain our standard of living, and were spending about $27,000 annually.
We were also able to set aside money each month to save for our grandchildren to go to university. By investing just a few dollars a month, just $10 per child, we were able to take advantage of their young ages to make compound interest work in our favor.
Spending Summers in Wasaga Beach
We have enjoyed ourselves in retirement. We still spend our summers in our home in Wasaga Beach, enjoying the fresh air and fishing opportunities. Lana works on her painting while I have taken a new interest in poetry. None of this would be possible if we had not been serious about saving for retirement.