Choosing the right life annuity for retirement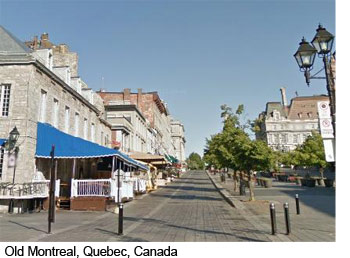 Mark and Tina's Story
When Mark and Tina Bower decided on a life annuity purchase, after retiring as city employees in Montreal, they did so with a goal of heading into their 60s with real peace of mind for their retirement years. In turn, the Bower's found a knowledgeable and helpful web based annuity service online that processed their request with professionalism and speed. They also got a great annuity rate that exceeded their expectations that is set-up to pay them during their retirement years.
Choosing the right life annuity
The best aspect of purchasing a life annuity is linked to the user-friendly process that the Bower's used to simply making up their mind to purchase one. The couple is in their late 50s, and chose a life annuity because it matched their retirement needs. They also chose an insurance company with top ratings to handle their annuity. The most common type of guaranteed savings plan in Canada today is a life annuity, states a survey from The Fields Institute that tracks longevity insurance and global annuity markets.
Annuitants benefit from their savings
"I wanted Tina and my children to be secure once we finally retired, and could settle back and enjoy all that our great city of Montreal had to offer," explained Mark Bower when commenting online about the couple's decision to opt for a life annuity making regular payments. Many retirees often run out of money before death but this allows the couple to receive funds regularly for things they need for the rest of their lives.
Top annuity customer service
The Bower's insurance company has an easy to follow website with comprehensive data about annuities. The couple learned that a life annuity is a safe investment that serves as a dependable source of lifelong income; while also offering a much better return on a deposit compared to current bank interest rates in Montreal. The couple said they appreciated how their annuity agent "treated us like family, and followed up to ensure all our requests and needs were met."
Moreover, the Bower's learned that they could turn their current savings "nest egg" into a lifetime income of $1,500 a month approximately. While the income is not inflation adjusted, the couple said "it sure beat the panic of worrying about retirement savings in this uncertain economy."
At the same time, the couple said they liked the idea of "guaranteed cash flow" because they've always had plans for helping their children out once they retired. They were pleasantly surprised when they learned about the many benefits of putting a portion of their capital into a life annuity to cover many of their future fixed expenses.
Life annuities for retirement
While the Bower's decided to convert their individual retirement account (RRSP's) to a life annuity for retirement, they were reassured that this was a wise decision after weighing all the options with their financial advisors. "We wanted to put something aside for our children and grandchildren," said Mark Bower when commenting online about making the decision to close their RRSP and establish their life annuity. The Bower's also discussed various scenarios that they may face in their later years with long term care expenses that make their life annuity even more valued.
The Bowers were equally impressed with their annuity product because of their many hopes and dreams about spending some quality time during their retirement exploring all the many tourist sites in their native Montreal. "We worked hard all our life so one day we could get out, and enjoy all the many parks, museums and attractions in Montreal. We want to share it all with our grandchildren, and this plan for our life annuity will help make that possible," said Tina Bower when commenting online about very satisfied she and her husband were with the entire annuity selection process.
The Bower's said they chose a life annuity because it offered real assurance that income for retirement would be there when they needed. The appeal of a life annuity includes:
A proven method and guarantee that the insurance company will pay the annuity right on time and without worry.
An annuity agent that offers very responsive and prompt attention to detail when sorting out a client's retirement savings objectives.
In Canada, the regular monthly payments from a non registered life annuities offer better payments than a GIC.
Life annuities in Canada are "regarded as ideal for retirees" because it is the only income of any financial product that is fully guaranteed.
In general, the Bower's said they wanted to benefit from a Canadian law for life annuities that states how the balance of a guaranteed non-registered annuity payment can be aimed at supporting the surviving family members, and thus creating "a two-generation income."
Life annuities protect seniors
At a time when the Baby Boomer generation in Canada is expected to increase the demand for life annuities, the Bower's and their family will have real peace of mind as their life annuity plan helps to cover their retirement and financial needs.
"Overall, we are pleased that our life insurance company really has our back when it comes to helping us secure the annuity income that best serves our needs," added the couple.