What Will Your Investments Be For Retirement?
Get a clear idea of what your investments will be.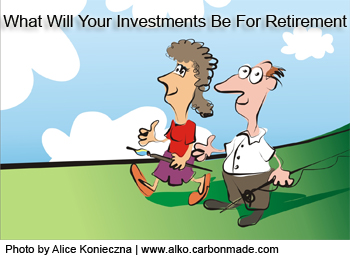 Knowing Your Investment Options
Taking a gamble with your retirement money is not a wise move. You need to be absolutely certain about an investment option before putting in your money. Given the effects of the recession are still being felt despite the passage of several years, the question of post-retirement investments has become even more important. You need to have a clear idea of what your investments will be for retirement before you reach the age of retirement.
Diversify Your Investments
The first thing you need to consider is whether you want to put all your eggs in one basket. The risk involved in the financial markets suggests that investing all your money in stocks, bonds and other tradable commodities would be a perilous move. On the other hand, banks aren't offering the kind of interest they did previously. Therefore, it is imperative that you look around for the best option rather than opt for convenience and put all your money in a single investment.
However, there is an option if you want to stick to a single investment. Life annuities have grown in popularity over the past few years as more people have become aware of their potential to provide a monthly income to retirees. Annuities have been around since forever; yet for some reason, they seem to be way down the pecking order when it comes to retirement investments. Investing in an annuity guarantees that you will not outlive your money, which is something no other investment option offers.
Invest Some Money Into A Life Annuity
You should consider investing some part of your retirement money in a life annuity. What this will do is guarantee you a certain amount of money that you will receive on a monthly basis. As for your remaining money, you can buy stocks or invest in any venture you deem fit. Who knows, the company you buy the shares from may turn out to be the next big thing. That aside, taking this step will assure you that your money is safe and that there is no way it is all going down the drain.
A major concern for retirees during the financial meltdown was that their money ran out. They had invested wisely, but the recession was quite merciless. As a result, many people are living through their retirement years in virtual poverty and there is little they can do about it as they have no more money coming in. Investing in an annuity at least ensures that you don't have to go through the same situation.
Don't Make Bad Investment Decisions
Retirees are prone to making bad investment decisions if they are under the assumption that the venture they have selected is going to deliver solid returns. What they need to realize is that it is virtually impossible for any investment to provide consistently high returns over an extended period of time. If you manage to live for a long time after your retirement, can you realistically expect an investment to deliver double-digit returns for the entire duration?
With life annuities, you can rest assured that you are going to receive every month a cheque to sustain your current lifestyle. Therefore, you can expect to live comfortably till the day you die. So, without a doubt, a life annuity is one of the best investment options for retirees. Whatever your investments are for retirement, make sure to add a life annuity to the list. It will secure all your other investments and provide a cushion for more adventurous investment options.