The Real Interest of Lifetime Annuities
Subheading goes here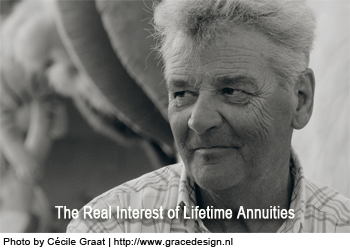 Annuities can provide both security and profitability
As the manager and part-owner of a busy garage, Ron could have retired a few years back. However, he likes his work so much that he still puts in the hours every week: making sure customers are satisfied, his staff is happy, and that the business is making money. Although he has an accountant to check and validate the financials, Ron has always been interested in good money management. When the garage took out a bank loan previously to help it expand, he took careful note of the different conditions and interest rates. After the business had grown and was generating good profits, his income went up. This allowed him to make some investments, always with an eye on both security and profitability.
Annuities that Keep on Going
Part of his investments is the lifetime annuity that he bought when he was 65. 'I liked the security and the low maintenance', he says. 'If my annuity was a car, it would just keep on running forever. It wouldn't break down and I wouldn't have to get it serviced every year!' He purchased his annuity when he thought he was going to retire. After he found he wanted to carry on for a while longer, he simply diverted the regular monthly income from the annuity into a savings account to earn modest interest.
Regular Income for a Worry-free Retirement
He also has some money in stock market shares bought earlier. Over the years, there have been ups and downs, as the economy and the stock market have risen and fallen. Even if Ron has finally seen good overall appreciation in the value of his holdings, he says he wouldn't make the same investment decisions now. As he points out, stock market investments have a certain amount of risk attached to them. When people are young, and they accept that risk, they usually have a good few years in front of them to allow any stock market investment to show a net profit. For older people however, fluctuations in any dividends that their shares pay them may hit them just at the time when they really need to have regular, dependable interest coming in.
Annuity Interest Rates
Ron also checked on the way that age and longevity might affect his purchase of an annuity. 'It's true that these and other factors affect the income when you buy an annuity. I liked the way the annuity was going to work for me, so I went right ahead and bought it. But to get increased income after retirement, you can also buy more annuities with registered and non-registered funds.
Keeps Getting Better
It turns out that is also what Ron is going to do. With the extra years he's worked, and more income and lower outgoings since he paid off his mortgage, he has decided that buying a second annuity when he's 70 would also be a wise retirement choice; 'Interest rates play a smaller part in annuity prices as you get older. The insurance company selling you the annuity takes account of the smaller number of years you can be expected to live, and increases the monthly payout to you, compared to a younger person'.
The big points of interest for Ron concerning annuities are:

Guaranteed regular monthly income for as long as he lives
A solid and dependable base with annuities, no matter what his stock market investments do
The annuity he bought at 65 was already a sound investment and the one he plans to buy at 70 will be even better
Picking the Annuity that Suits You Best
Was it easy to find out the monthly incomes? 'Absolutely', Ron agrees. 'Even if I like to think I'm good with numbers and finances, my annuities advisor had an annuities calculator that did it on the spot. I saw immediately how it would work and we also looked at a few different options for the size of the annuity. It was very quick and accurate.'
And when he gets to 70, will he still be working in the garage? Ron laughs. 'I doubt it! I think it really will be time for me to do other things, although I'll still be available for any business advice.' He hasn't yet decided if he'll sell his part of the business.
Now that he has his annuity plan in place, it's a decision he can take later in any case, after he's had some time to work on some other interests – going fishing, improving his golf and rebuilding a vintage car (!).