Seniors Should Educate Themselves About Annuities
Annuities are ideal for retirement.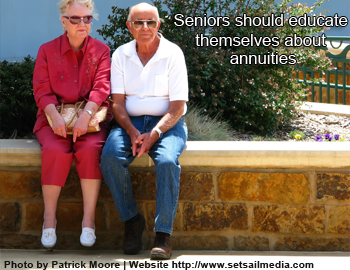 Why Aren't Annuities Popular?
For most seniors, retirement comes as a rude awakening long before they are mentally prepared for it. As a result, they are unable to make sound decisions regarding their investments, which is what they will rely on to provide for them for the remainder of their lives. One of the best options for them is life annuities. Yet, for some reason, life annuities aren't as popular as they should be. This can be attributed to the lack of knowledge about their benefits.
Uncertain fiscal conditions have made it imperative for seniors to think about their money situation before retirement. As their income is going to stop (and in the absence of a pension plan), it becomes difficult for them to sustain a decent lifestyle. Also, the fear that their money might run out before they expire can grip their mind. This is why seniors should educate themselves about annuities, which could be the ideal retirement investment option for them.
What is a Life Annuity?
A life annuity is an agreement between you and the insurance company of your choice. You pay them a lump sum from your savings and they will continue paying you interest on the amount every month for as long as you live. The factors taken into consideration for your income include, longevity, bond rates and your age. The company uses these factors to work out a suitable rate that they will pay you on your investment when you purchase the life annuity. You continue receiving the money from the insurance company every month for life.
How Does a Life Annuity Work?
Just like you, there are thousands of Canadians nearing the age of retirement. All of them are looking for ways to make their money last for the entirety of their lifetime after they retire. The insurance companies collect money from these people when they purchase life annuity plans. It is from this pool that they make payments to the entire group on a monthly basis. If you pass away before any guaranteed period the policy expires, the remaining payments collapses into a lump sum or are continued as payments for a specified period of time depending on the type of annuity.
What Is The Guarantee Period
Generally, a fixed period is agreed upon by the insurance company and the buyer during which the company will make payments. This is known as the guaranteed payment period. However, by going for a life annuity, you are guaranteed a monthly payment for life with the guaranteed period as a minimum. This means that even if you live to be 100 years old, the payments will continue.
What Are The Benefits of Life Annuities?
The foremost benefit of life annuities is that they ensure that your money doesn't run out for as long as you live. If you are concerned that your savings aren't enough to get by after retirement, purchasing a life annuity is the best option. Moreover, the payments are guaranteed. So, you can enjoy peace of mind regarding the income you will receive.
How to Buy a Life Annuity?
You have to get in touch with a Canadian insurance broker to purchase a life annuity. However, it's always a good idea to get them to compare a number of companies before purchasing. That way you can get the best income. These are some of the things seniors should know about annuities so that they can make the right investment decision once they retire.