Retirement for Two
Decide on a a joint annuity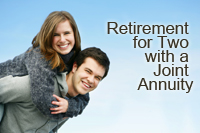 Tony and Olivia's Story
Tony and Olivia believe that a healthy attitude to work and money, and a bit of good luck have now set them up nicely to enjoy retirement. They consider their luck was to have met each other in the first place. Being about the same age and having similar interests led to a marriage that has now lasted for over 35 years and it still going strong. Tony, an accountant by profession, retired a year ago and Olivia who was in human resources followed him a couple of months afterwards.
Money that Works for You
'We've always both agreed that if you treat people, work and money with respect, you can't go far wrong', says Olivia. 'Our financial planning for retirement runs along similar lines. Throughout our careers, we've worked to earn money that is now working for us for a comfortable retirement. More than that, whoever lives longer out of the two of us will continue receiving income that is stable and dependable.'
After reviewing different options before retirement, the couple decided on an annuity to provide regular retirement income as a central part of their retirement finances; in particular, a joint life and last survivor annuity. The annuity pays them a monthly amount that continues if either one of them dies, up till the death of the surviving partner.
A Second Life that also Needs Planning
'People need to pick the financial solution that works best for them', according to Tony. Did his experience as an accountant help here? 'Actually, the decision to buy our annuity was quite a simple one, based on the regular income we would get. What my accountancy experience really taught me was the value of planning ahead. I'd encourage everyone to spend a little more time thinking about their future, so as to get more out of it!'
Olivia agrees. 'Many of us plan our professional careers in detail, but don't think enough about what will happen afterwards. Yet nowadays, retirement is a 'second life', so it's worth making sure you can enjoy all of it.'
Annuities to Fit Needs
Choosing an annuity still left Tony and Olivia with possibilities to adapt this solution to their particular requirements. With family, the upkeep of their own house and the cost of living to think of, they were able to personalise their annuity with a number of options that were important to them.
- The annuity has a guaranteed period of payments; if both die before the end of this period ('You never know!' says Tony), the remaining guaranteed payments will go to their children.

- Whoever survives the other will continue to receive regular income of the same amount. This will ensure that expenses like house repairs and maintenance can continue to be funded as before.

- The annuity payments are index-linked to take account of inflation and rises in the cost of living. 'You can't change inflation', Olivia says, 'but you still need to plan for it!'
What's coming up for them now that they have both retired? 'More time for our children, our grandchildren and some vacation. We're going to take our family to see the fireworks festival and the Great Lakes, and then we'll be off on tour of our own. After that, we have an extension planned for the kitchen'. It sounds like a fulfilling retirement is firmly on Tony and Olivia's agenda.
If Tony's and Olivia's situation sounds familiar and you'd like to know more about your own retirement options with an annuity, then call us today at 1.877.842.3863 for a friendly, open discussion free of charge.