Lifetime Gift Annuity

September 26, 2013
by
What is a lifetime gift annuity?
A lifetime gift annuity allows a parent or relative to leave a long-term reminder of themselves to their beneficiary while living and for the lifetime of the beneficiary. The reminder comes in the form of lifetime income, payable every year on the date of your choice. The income comes from a joint life annuity purchased by the parent, so the parent and child are the annuitants and income is paid to the child for the child's lifetime.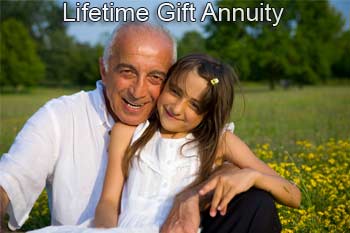 Leaving a Legacy with a Lifetime Gift Annuity
You are making your Last Will and Testament and you are thinking of your children and grandchildren. You want to leave them with a legacy that will help improve their lifestyle but perhaps, more importantly, their life skills.
Some of your intended beneficiaries are conservative, treating their money with respect while others just let it skip through their fingers. They open and close shops, take long vacations, buy expensive clothes and you know the rest of this story.
Now comes the Lifetime Gift Annuity which could be your answer to provide for yourself and your beneficiary or perhaps just your beneficiary. In place of leaving a lump sum, this annuity will make annuity payment to a child or grandchild for the rest of his or her life. For example, a joint life annuity purchased with $100,000 for an 18 year old grandchild will produce $4,500 per year. At age 65, that grandchild will have received $180,000 and will still receive a cheque every year for the rest of their life.
Overview of a lifetime gift annuity
Annuity type

Joint life annuity

Source of premium

Non-registered funds only

Tax treatment

Accrual

Policyholder (and taxpayer)

Parent, Grandparent, Aunt, Uncle etc.

Contingent policyholder

Child, Grandchild, Niece, Nephew, etc.

Annuitants

Parent = Annuitant
Child = Joint annuitant

Payee

Parent or Child*

*We advise against naming a minor joint annuitant as a payee.

Payment frequency

Annual

Payment date

Child's birthday (or date of policyholder's choice)

Payment start date

The start of income may be deferred up to 10 years from the purchase date.
Lifetime Gift Annuity Quote
Annuitant:
 
Father
Date of birth:
 
12/09/1957
Sex:
 
Male
Joint annuitant:
 
Son
Date of birth:
 
01/01/2004
Sex:
 
Male
Total premium:
 
$ 100,000.00
Annuity type:
 
Life
Guaranteed period:
 
0 years
Purchase date:
 
01/11/2013
Income start date:
 
01/11/2014
Non-registered tax type:
 
Accrual
Income frequency:
 
Annual
Total income:
 
$ 4,137.62
About the Author:
Ivon T Hughes is a leading expert in life annuities in Canada. His website LifeAnnuities.com is a recognized authority on annuities. He's also an established insurance and investment broker, licensed across Canada through The Hughes Trustco Group since 1972. Recently, he's been redefining how annuities are sold in Canada.