Annuity Diversification of Retirement Income Provides a Worry-free Retirement
Diversification Makes Sense If You're Older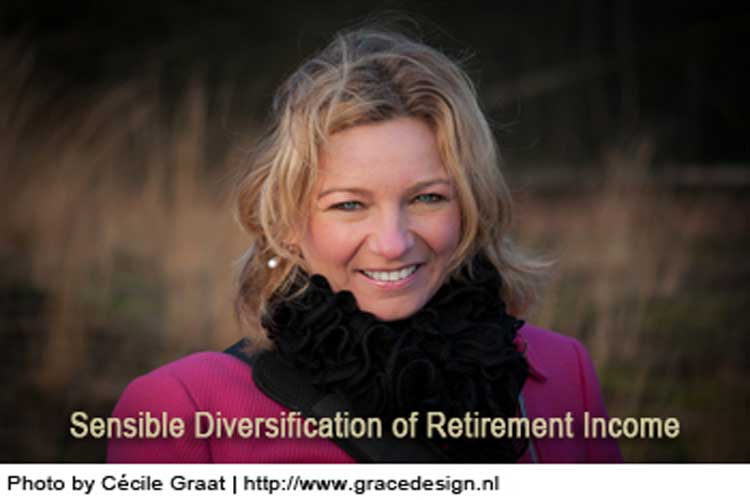 Annuity Income Provides a Worry-free Retirement
Going into retirement is no reason to stop enjoying yourself – that's Megan's point of view. Ex-public relations manager with a zest for life, Megan's goal for retirement has always been to have fun, while still ensuring her financial security. From that, it was a natural progression towards making an annuity the cornerstone of retirement both for regular monthly income.
Diversification Must Still Make Sense if You're Older
'I looked at other options such as investing in stocks or mutual funds. However, there were two things that nudged me over towards to annuities. The first was that while you can do very well in the stock market, you can also see your investment suffer badly if the market goes down. When you're young, you may have time enough for your investment to recover, but at retirement age I no longer have that time. The second thing was that fixed income payments from annuities are guaranteed by a national annuity body called Assuris that all annuity providers must subscribe to. Try finding an advantage like that in the stock market – I doubt if you will!'
A Guarantee that Covers Every Annuity
Indeed, Assuris covers annuity payouts up to $2,000 per month or up to 85 per cent of the monthly payment promised in the annuity agreement, whichever is the higher. And perhaps the reason why the industry as a whole can make such generous guarantees about continuing to fund payments like this is because insurance companies providing annuities are already very reliable.
Ongoing Flexibility and Choice
Megan continues: 'The idea of regular monthly income for as long as I lived had immediate appeal for me. And I also found there were annuities that guaranteed monthly income for a fixed period of time. That gives you flexibility in choosing a time when it suits you to buy.
Megan's choice in terms of annuities was to take two separate annuities – one of each.
- She used the money from a registered retirement savings plan (RRSP) she already had to convert it into a lifelong annuity to give her regular income

- For this annuity she chose for it to be index-linked to hopefully keep pace with the cost of living.

- As a single person with no immediate family, she also chose a non-registered annuity that ensures that her monthly income will last as long as she lives. When she dies, the payments continue for the balance of any remaining guaranteed payments.

- With this non-registered annuity, her taxable income is a lot less than she would pay on a GIC.
Worry-free Retirement
In the light of her professional experience, Megan comments that annuities are surely a public relations manager's dream: 'there are so many advantages and so much choice, and so dependable.' All of that corresponds as well to what she was looking for. She can now devote her time and energy to her favourite associations, including the regional animal protection society. 'We're holding a rummage sale at our local headquarters in a couple of weeks' time', she says with an engaging smile. 'Can we count on your participation?'
If Megan's situation sounds familiar and you'd like to know more about your own retirement options with an annuity, then call us today at 1.877.842.3863 for a friendly, open discussion free of charge.