Transamerica: Annuity Calculator
The following is a screenshot of Transamerica's annuity calculator used to obtain up-to-date annuity illustrations. Each annuity calculation is tailored to your unique needs and financial goals.
Transamerica Life Canada is now ivari
On July 31, 2015 Wilton Re completed the purchase of Transamerica Life Canada and has been renamed ivari.
(Reference: www.ivari.ca)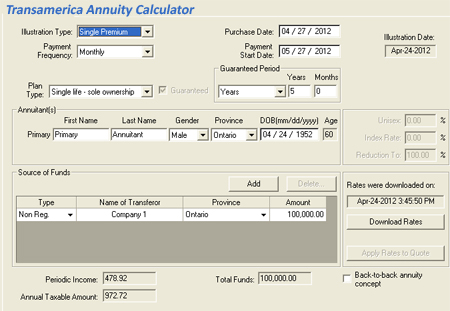 Calculate Your Annuity Payment
Calculate your monthly annuity payment using Transamerica's Annuity Calculator below.
Once you submit your information, we'll calculate your monthly annuity income and send you the Transamerica Annuity Illustration by email.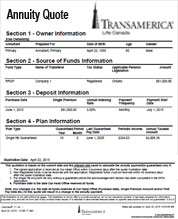 Transamerica Annuity Calculator
Annuity Calculators