TFSA Contribution Limits
Annual contribution limit for tax-free savings accounts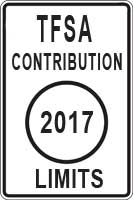 What is the annual TFSA Contribution Limits?
Your TFSA contribution limit is the maximum amount that you can contribute to your TFSA.
A penalty of 1% per month will be assessed by the Canada Revenue Agency (CRA) on the amount that is over your total contribution room for your tax-free savings account.
Table: TFSA Contribution Limit
| Year | TFSA Contribution Limit | Cumulative Total |
| --- | --- | --- |
| 2009 | $5,000 | $5,000 |
| 2010 | $5,000 | $10,000 |
| 2011 | $5,000 | $15,000 |
| 2012 | $5,000 | $20,000 |
| 2013 | $5,500 | $25,500 |
| 2014 | $5,500 | $31,000 |
| 2015 | $10,000 | $41,000 |
| 2016 | $5,500 | $46,500 |
| 2017 | $5,500 | $52,000 |
| 2018 | Indexed to inflation | - - |
| 2019 | Indexed to Inflation | - - |