Talk to an independent annuity broker who can advise you on Canadian Annuities and how they can fit into your retirement plan.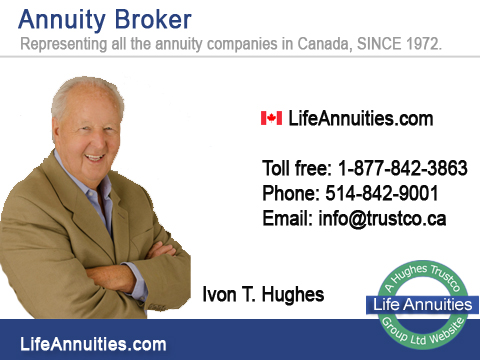 Ivon T. Hughes is a Canadian annuity broker who represents all the annuity companies in Canada and has been in business since 1972. Call Ivon toll free in Canada  1-877-842-3863 or 514-842-9001 from U.S and internationally.
Why Use an Independent Annuity Broker?
Annuity policies can only be purchased from an insurance agent or broker.  It also makes more sense to use an independent annuity broker to do the shopping and the research for you. In addition, insurance agents only represent one company and are tied to selling their annuity products.
An independent annuity broker can get you annuity rates from all the life insurance companies. The following is a list of Canadian insurance companies that sell life annuities in Canada.
An Annuity Broker's List of Companies Should Consist of the following:
1. BMO Insurance
2. Canada Life Assurance Company
3. Desjardins Financial Security
4. Empire Life Insurance
5. Equitable Life
6. Great-West Life
7. Industrial Alliance
8. ivari (formerly Transamerica)
9. La Capitale
10. Manulife Financial
11. RBC Insurance
12. Standard Life (now Manulife)
13. Sun Life Financial
Ask Ivon T Hughes to find you the best annuity deal for you. We'll shop the market and send you all the annuity rates. Furthermore, the services provided are free of charge and you're under no obligation to buy any of the quotes you receive.
If you would like more information on annuities please use our contact us page and request a call from Ivon T Hughes. In addition, you can also complete our online annuity quote form and we'll get back to with an annuity illustration.
Advertising Newsprint: 1986 The Montreal Gazette