Cashable annuities, cash refund annuities or principle protection all mean the same thing.
Cashable life and term certain annuities are an answer to the increasing demand for flexibility, along with the security of the investment.
With this new product, you will get the higher age return income of a life annuity, but with the bonus of being able to cash out if you wish. Life annuities, of course, give better returns the older you are, but as you receive the same income as a non cashable annuity, they're certainly worth investigating.
And you don't have to ever use the cashability feature.
Cashable Annuities – This option (also known as a cash refund guarantee) ensures that, in the event that all annuitants pass away on or after the payment start date, a beneficiary will receive a lump sum payment. This lump sum payment is equal to the difference between the total payments made by us and the original investment.
Example of a Cash Refund Annuity
Here is a quote from Manulife's Principal Protection – This option (also known as a cash refund guarantee).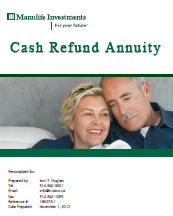 Annuity Details: joint annuity, male and female aged 65, $100,000 of registered funds with a cash refund option. Manulife Principal Protected Annuity.
To learn more about Cashable Annuities please call us toll free 1-877-842-3863 or email us at info@trustco.ca .