PRESCRIBED ANNUITIES, TAX CHANGES, AND THE BENEFITS OF ANNUITIZING BEFORE JANUARY 1, 2017
The new changes from the Government of Canada to prescribed annuity taxation will provide a compelling reason for seniors to contemplate annuitizing their non-registered funds before January 1, 2017. Read more.
Annuity Calculator

Annuity Quote of the Day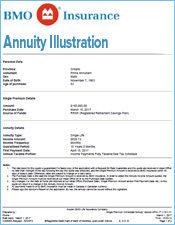 Date: April 29, 2016
Company: BMO Life Insurance
Details: Single, male 70, $150,000

View Todays' Annuity Quote


View Previous Annuity Quotes
Case Study: Pamela from Montreal
Read Pamela's story how her life annuities are helping her enjoy a lifelong monthly income allowing her security and peace of mind.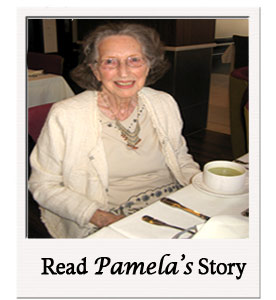 Today's Annuity Fact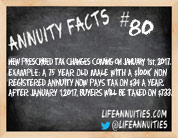 Annuity Fact # 80
New prescribed tax changes coming on January 1st, 2017....

View Today's Annuity Fact

View Previous Annuity Facts

Companies we deal with